Choosing what clothes to pack for a camping trip is a battle between carrying enough clothes and traveling light. You have to decide what's absolutely necessary and what you can leave behind. We've written a guide on how to pack clothes for camping, with tips on how to pack for different kinds of weather, what you need (and don't need), and how to pack ultra-light.
How To Pack and Organize Clothes For Camping?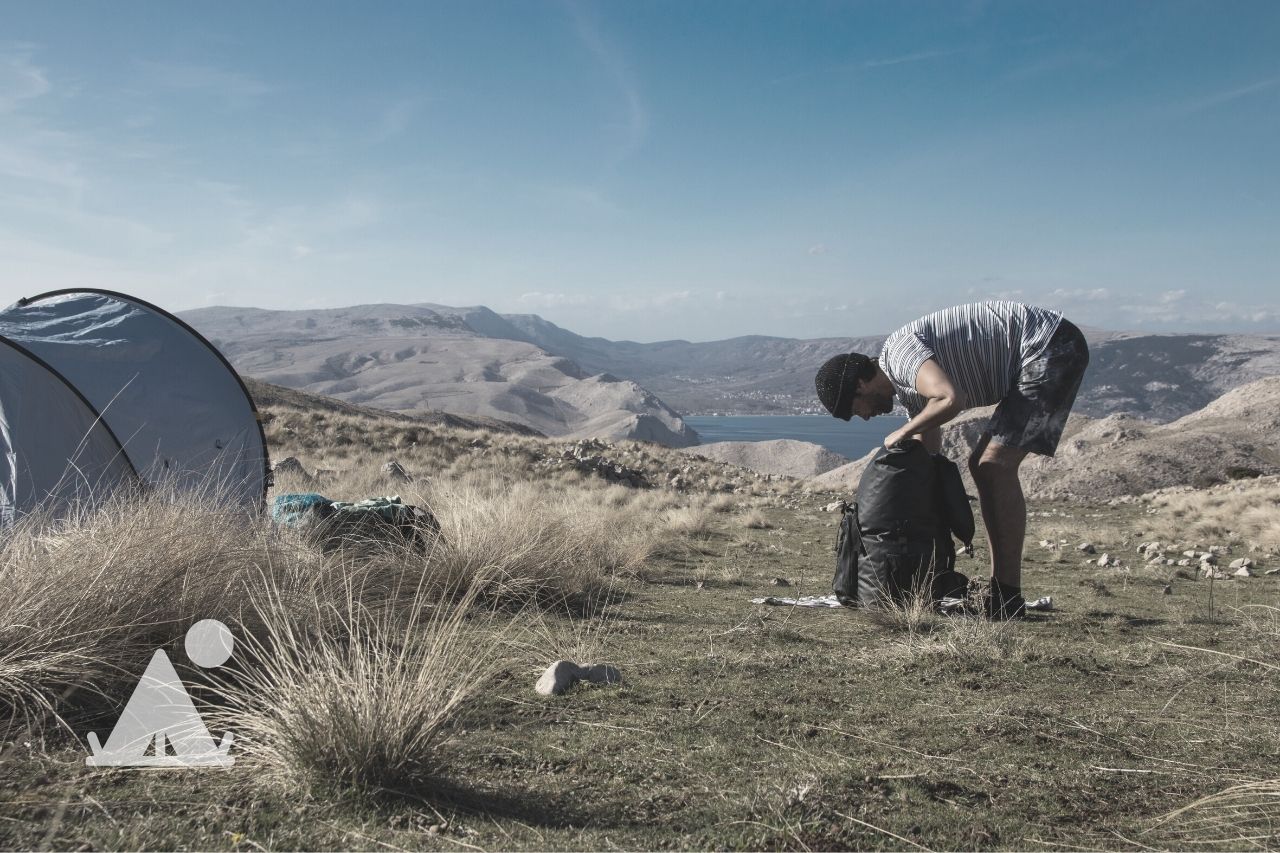 It's faster to stuff all the clothes you'll need into a backpack, but it'll be frustrating when you are out camping.
Everytime you need a particular item, you have to fumble around in the bag to find it. This can be particularly bad if you are going backpacking and have to find something while on the trail.
Organization is key when packing clothes for camping. It makes everything easy to find later on, and reduces the chances that you'll forget some things when packing.
Pick A System That Works For You
Everyone has their own system that suits their circumstances. Once you go camping a few times, you'll know which packing system works best for you.
Here are some tips to help you get started.
The most common organization method is to pack clothes by day. Lay out a set of clothes (underwear, socks, pants/shorts and shirt/top) for each day you'll be camping.
Roll each set into a neat bundle. If you want, you can put tape on it and label it with the day you'll wear it. Labeling is useful when packing for kids.
Don't include heavy outerwear like sweaters and jackets in the roll. Pack these separately since you only need a couple or so that you'll wear daily.
Also shoes and sandals separately.
If you'll be traveling by vehicle, you can afford to have a bag just for clothes. That makes it easier to access the clothes and ensures they don't mix up with other wet or dirty camping gear.
If you are camping with family members, make sure everyone has a separate bag for their clothes. Do not pack everyone's clothes in the same bag.
If you have all your camping gear in the same backpack (necessary for backpacking), put clothes in a waterproof drybag or compression bag before placing them at the bottom of the backpack. This protects them from moisture and dirt.
Don't forget to pack accessories like a hat, scarf, mittens, ear muffs and others.
Tip: If you find it difficult to roll an entire set of clothes into a single bundle, you can also roll single items individually. Here's a video showing how to do this.
Pack Multiple Layers of Clothes
For each day's set of clothes, you need to have multiple layers.
Layering is extremely important when outdoors. It helps wick sweat, provides insulation, and makes it easy to adjust your clothing depending on the weather.
You need three layers of clothes: the base layer for moisture absorption (can be a top and pants or thermal underwear), the mid layer for insulation (a sweater or light jacket, or both), and an outlet layer for weather protection.
Pack just the base layer (plus socks and underwear) for each day. Then have a couple of jackets and cardigans or hoodies that you'll wear daily.
Use An Adequately Sized Bag
How big a bag you need depends on how many days you'll be camping, how much gear you are carrying, and whether you are carrying everything in a single bag.
If you are backpacking, you'll need a fairly large backpack that will fit everything. We recommend a 30 to 50 liter bag depending on how long you'll be camping.
Make sure it's a waterproof backpack.
If you are traveling in your vehicle, it's probably better to have two or three smaller bags instead of one huge bag carrying everything.
Carry an Empty Bag For Dirty Clothes
You need a separate place to keep dirty clothes. We recommend packing an empty waterproof drybag specifically for dirty laundry.
You can also use a plastic trash bag or even a large pillowcase. Basically, anything that will keep the dirty clothes separate from the clean ones.
What Clothes To Pack For Summer Camping?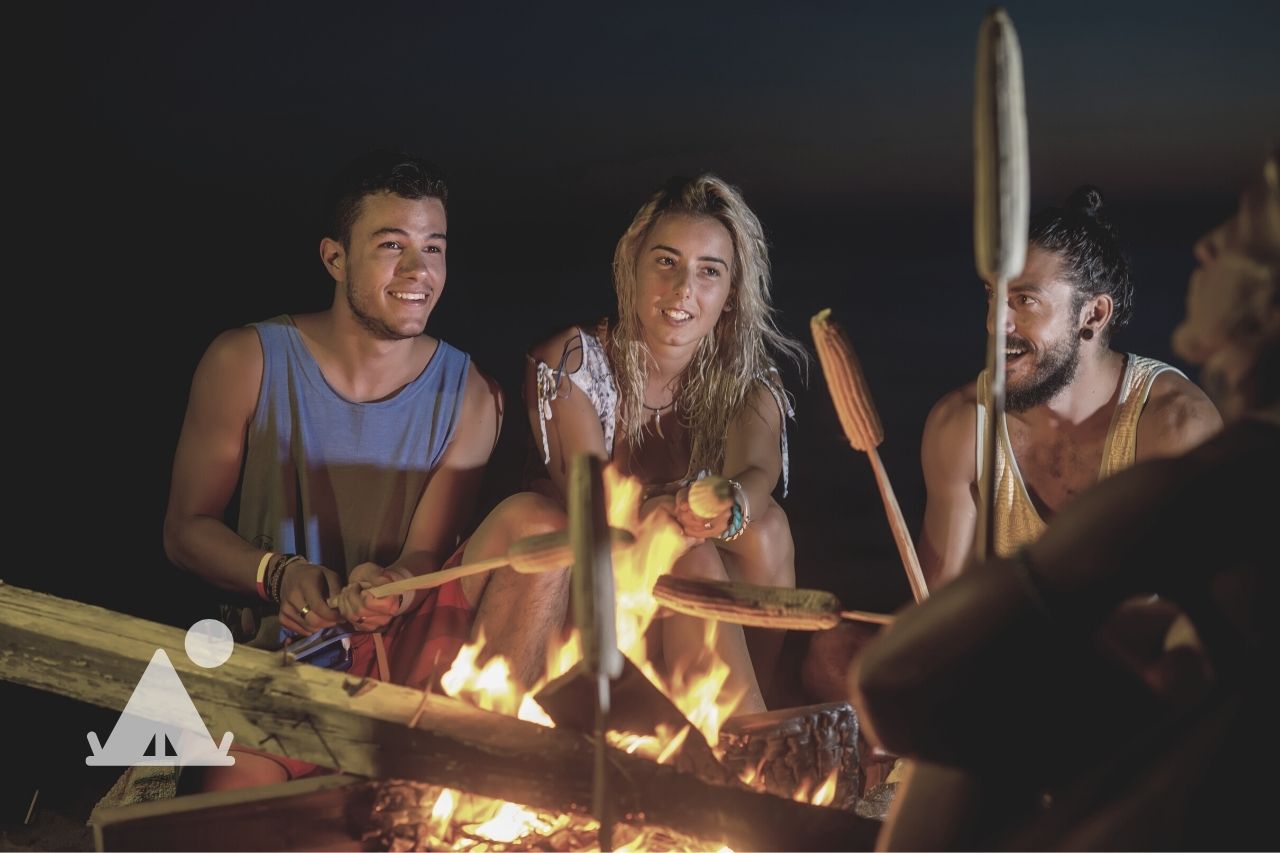 Summer camping is all about managing heat. But you also need to be ready for cool nighttime temperatures and sudden rain showers.
Here are the essential clothes to pack for summer camping.
Moisture-wicking base layers such as tops and light pants – go for wool or synthetics like polyester and nylon.
Warm and breathable hoodie, sweater or cardigan. This will probably be enough to keep you warm in the evenings.
A shell jacket in case it gets really cold or it rains.
Also carry a pair of rain pants in case it rains.
Socks & underwear.
Wide brimmed hat.
Comfortable shoes for hiking or short nature walks.
Sandals or flip flops for spending time around the campsite and in the tent.
Breathable sleepwear. You can carry your home PJs or sweatpants and a t-shirt.
What Clothes To Pack For Winter Camping?
Packing for winter camping is all about warmth and breathability. Choose clothes that provide more insulation and dry quickly.
Long underwear, also called thermal underwear, provides the best combination of insulation and moisture wicking. Look for one made with materials like polyester, nylon, and wool.
Avoid packing anything made with cotton. Once cotton gets wet from sweat, it stays wet and robs you of body heat. This can lead to hypothermia.
Depending on the temperatures you expect, pack lightweight, midweight, or heavyweight base layers. The heavyweight option is ideal for subfreezing temperatures.
Pack warm midlayers. Pack at least two midlayers. You can remove one layer if it's too warm. For midlayers, a hoodie, sweater, cardigan, vest, or zip up jacket works great. We recommend combining a hoodie or sweater and a lightweight jacket.
Pack a waterproof jacket and pants. These will protect you from the cold, rain, wind, and snow.
Don't forget scarves, a hat, socks, underwear, and anything else you think might help you stay warm.
Carry a pair of winter boots.
Unlike summer camping, don't pack open sandals and flip flops as it will be cold. Instead, carry a pair of warm slip-on shoes or foam slippers and wear them with a pair of thick socks while in the tent.
How To Pack Kids Clothes For Camping?
When camping with kids, proper organization is even more important. You need to know whether each item of clothing is so that you can grab it quickly when you need it.
Use the same organization tips we explained above. Lay out a set of clothes for each day and roll it up into a bundle.
We highly recommend labeling each bundle with tape noting the day it'll be warm. If you have multiple kids, also note their name on their bundles so there's no confusion.
Layering is the same as with adults: base layers, mid layers, and weatherproof outer layers.
Pack an extra set or two of clothes per child just in case of an accident that requires a change of clothes during the day.
Remember to pack each child's clothes in a separate backpack or drybag to make organization easy. But you can have just one bag for all the dirty clothes.
How To Pack Light For Camping?
If you are backpacking or you plan to hike to the campsite, it's important that you pack as lightly as possible.
If you are not careful, you could pack too many clothes that take up the space of other essential items like your shelter and sleeping bag.
Here are some tips on how to pack fewer clothes and still have fun camping.
Carry just one or two sets of clothing. Carrying a set for each day will add too much weight to your pack.
Carry quick-dry clothes that are easy to wash. Doing laundry, even if it's just rinsing out the sweat and dirt from clothes, lets you carry fewer clothes. Clothes made from quick-dry fabric like nylon and polyester will dry overnight.
Wear clothes multiple times. Just clean your underwear and socks (or carry an extra set) but wear the same clothes for two or more days in a row.
Carry just one jacket for weather protection. If the weather is warm, a single mid layer item like a sweater or hoodie is enough. If it's cold, have two mid layer items.
A single set of thermal underwear is enough. You can air it out in the evening to refresh it. If it's a warm night, you can wash it and hang it in your tent. It'll be dry by morning.
How To Pack Toiletries For Camping?
Definitely have a separate toiletry bag or organizer. It makes it easy to access the small items, especially when you are on the trail.
Only pack the basic toiletries you need. Don't carry your entire makeup kit.
That doesn't mean you can glam up when outdoors. But stick to small tubes and jars to save space. If you can't find small sizes of your favorite moisturizer or cream, decant the one you have into a smaller container.
When packing toiletries in your backpack, keep them within easy reach. You can even have a separate pouch for those you'll use often like lip balm and bug spray.