Unlike adults, kids won't stand a moment of boredom when camping. The moment they start getting bored, you have trouble on your hands.
Luckily, it's easy to make camping fun for kids (and tweens). It just requires good planning and some creative thinking. Here are our best tips and ideas on how to make camping fun for kids. 
7 Ways To Make Camping Fun For Kids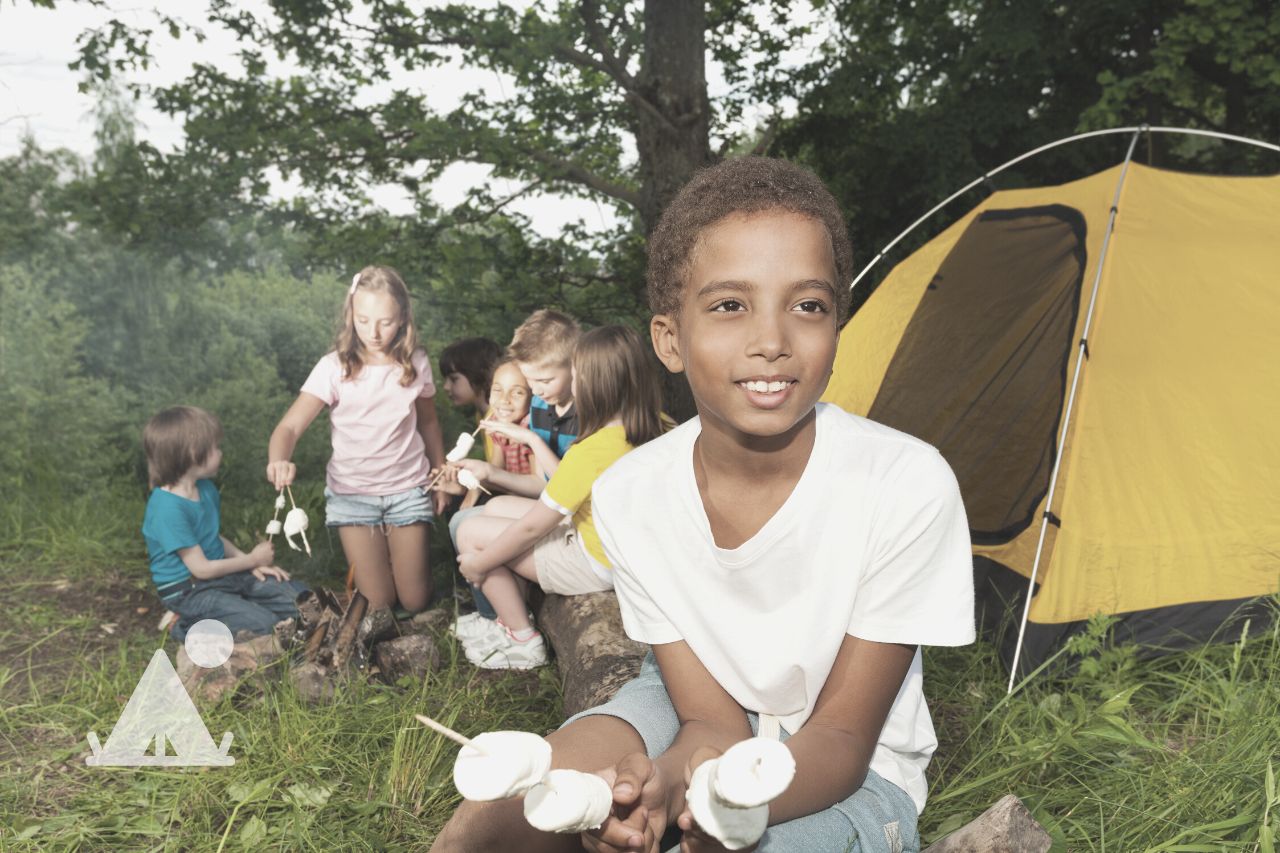 1. Plan An Easy Camping Trip
Before you even pick fun activities you are going to do with your kids or pack their favorite toys, make sure you've picked the right campsite.
You want a camping experience that is easy and stress-free for the kids. Unless your kids are seasoned campers, avoid any campsites without amenities.
Stick to well established campsites. These typically have lots of amenities and facilities, and are generally safer to camp at when you are with kids.
It's also a good idea to avoid locations with extreme weather, whether it's heat, cold, rain, or wind. These can be safety hazards for your kids.
Talking of the weather, summer is generally the best time to go camping with kids. The days are warm and the nights are not too cold.
Campsites may be a bit crowded, but it's better than dealing with snow.
2. Pick A Fun Campsite
One of the best ways to make camping more fun for kids is to pick a campsite that offers lots of fun kid-friendly activities.
Search for family-friendly campsites that offer things like swing sets, trampolines, live entertainment, arts and crafts, kids swimming pool and other fun activities.
This reduces pressure on parents to plan fun activities or pack lots of games. There's already plenty for the kids to do at the campsite.
3. Plan Fun Camping Games
No matter which campsite you are going to, it's important to plan a few fun games you can play with your kids when camping.
Some popular options include scavenger hunt, ball sports like soccer, frisbee, capture the flag and many others.
Some of these like scavenger hunts are perfect if you want to sit down while they run around.
For the evenings and when the kids are tired, board games, puzzles, word games, brain teasers and quizzes are perfect.
Pick a few games and pack anything you need to play them.
4. Let Them Help Out
Don't let your kids sit or play while you do all the work setting up the tent and preparing food.
Part of the fun in camping is doing these chores. Assign everyone a duty. They can help put up the tent, lay down the bedding, collect firewood, cook or prepare ingredients and anything else that needs doing.
It's actually a good idea to plan all this before you leave home so the kids know what to expect. You can even draw up a worksheet with various activities and who is assigned to each.
Getting your kids to help will save you time and let you also enjoy the camping trip. They also get to learn a lot. As you go on more family camping trips, they'll become more and more helpful.
5. Go On Adventures
When choosing a fun campsite to go with kids, see if you can find one that offer a variety of adventures nearby.
For instance, many camping sites are surrounded by easy hiking trails that are perfect for kids. They'll be so happy exploring the world outside.
Other adventures you can do include swimming, cave exploration, bird watching and so on. Just make sure that whatever adventure you choose is safe for the little ones.
If there aren't exciting adventures around the area, create your own. For example, try to find different kinds of bugs, leaves or flowers around the campsite.
6. Pack Their Favorite Toys & Books
Leave some time for kids to play on their own with their toys. Packing their favorite toys can be especially handy when you need time to rest or prepare dinner.
They can also play with the toys on the drive to and from the campsite.
In addition to toys, pack a few books as well. These include books they can read on their own (get picture books for the younger ones) and one or two books that you'll read to them.
Reading is a great way to pass time in the evening and you can include it as part of their sleep routine.
7. Invite Their Friends
Kids have way more fun when they are with their friends. Ask their friends' parents if their child can join you for the camping trip.
You can even arrange a group camping trip with one or two other families. That way, you'll not be overwhelmed looking after several kids.
Camping with friends can be especially helpful for kids who are nervous about camping. It's also great if you have one or two kids and you think a bigger group of kids would be more fun.
Fun Foods To Cook When Camping With Kids
Cooking fun and interesting foods can make camping more enjoyable and memorable for kids.
The usual s'mores are a must, but there are plenty of other fun food ideas beyond these. Other ideas include sandwiches, burritos, mini pizzas, tacos, cheeseburgers and pancakes.
For snacks, you can try fruits, popcorn, trail mix, chocolate-dipped marshmallows, and baked pastries among others.
If you have a cooler or a portable freezer, you can pack some ice cream for dessert.
Plan all these meals when you are still at home. Ask your kids for ideas on what they'd like to eat and have them help you create a meal plan.
Then note the ingredients and appliances you need for each meal to ensure you pack everything you need.
If you need inspiration on what to cook when camping, here's a helpful video from Tasty.
Additional Tips For Camping With Kids
Now and then, let your kids have unstructured play around the campsite. You'll be surprised at how creative they can be to avoid boredom. Just be ready for them to get dirty and messy.
Consider bringing your dog along for camping. Your kids will have a lot of fun playing with the dog. Remember to check whether the campsite you are going to allows pets.
Organization is key to efficiency and fun when camping. Pack everything in clearly labeled boxes or totes. This makes it easy to quickly find what you are looking for and ensures everything runs smoothly. If you have multiple kids, pack everyone's clothes separately.
For the evening after the sun sets, pack toys and other things that light up. Kids love them. They can be glow sticks, light up magic balls, light up rings and so on. It can even help make the dark more fun and less scary for the kids.
A family movie night outdoors is a great idea. There are portable projectors and projector screens you can use to set up a big screen anywhere. Alternatively watch from a tablet. Remember to pack comfortable chairs or inflatable bean bags.
Consider car or RV camping instead of the usual tent camping. It's easier for the kids and it can be more fun especially for kids who are nervous about being in the wild outdoors. Car/RV camping is also the best option when it's really cold or you expect rain.
Get binoculars for your kids. They'll have fun exploring birds, trees, animals and other things around them. You can also carry a camera for them to snap whatever they like.
Make sure the kids are as comfortable as they can be. This is especially important at night when most people's campaign experience gets ruined. Pack warm clothes, comfortable sleeping bags, and don't forget to include bug repellers.
Don't forget that you also need to have fun and relax. While you may not be able to go hiking or rock climbing, there are plenty of things you can do while your kids are playing or asleep.
Carry a book or Kindle, pack a board game you can play on your own or with your partner, and try some yoga when you get a few minutes.
Here's a brilliant tip from other parents. Get your kids tired during the day with fun and activities. They'll sleep easier and earlier in the evening, leaving you time to relax around the campfire.
And here's a not-so-fun tip: be ready for early and loud mornings. Your kids will wake up early and won't let you sleep in. Wait until you are back home to enjoy good sleep.