Believe it or not, you can get bored when camping with friends. After the initial excitement of getting to the campsite and setting up camp, you might find yourselves with a lot of time and not much to do.
To save your camping trip, here are a few ideas on some fun things to do while camping with friends.
Is Camping With Friends Fun?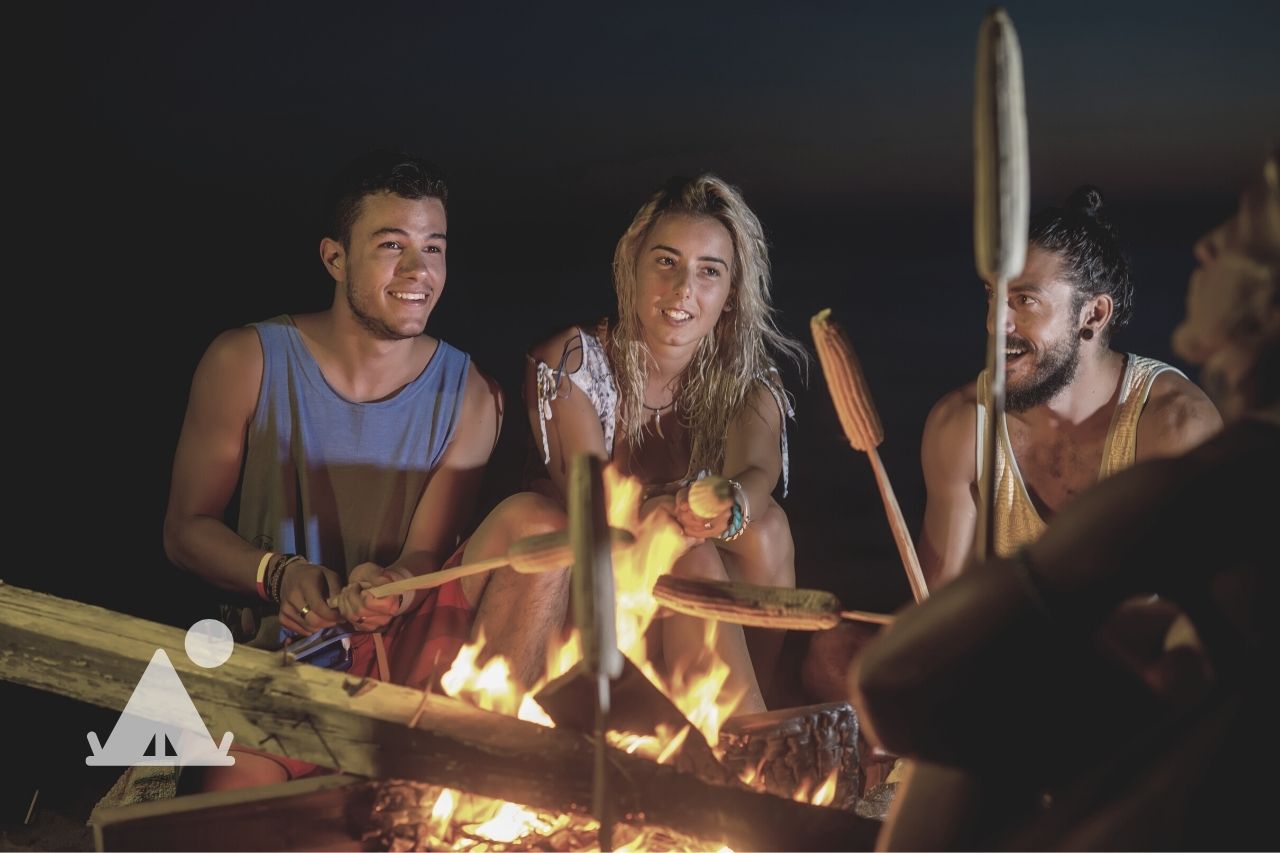 This seems like an obvious yes, but camping is different from other activities.
You may enjoy going to the movies, going to see a game or going shopping with your friends. But camping is a whole different world.
When camping, you don't have the usual things to distract you and fill your time. It's you and the outdoors, and that can get boring fast.
And even if you like camping, your friends may not be as enthusiastic about being outdoors as you are.
To ensure your camping trip with your friends is fun, here are three important tips to keep in mind.
Carefully choose who to go camping with. Don't force anyone who really hates camping. It'll just ruin the experience for everyone else. You don't have to go with friends who are as outdoorsy as you, but at least they shouldn't passionately dislike the idea of sleeping under the stars.
Carefully choose the camping experience to make it fun for everyone. This is not the time to attempt a challenging camping experience. Unless you are all camping enthusiasts, keep it easy and simple. Go camping when it's warm and choose well established camping sites with facilities.
Plan ahead of time. And not just the usual planning for food, bedding, and emergency gear. You should also plan for fun. What fun activities are you going to do when camping? Let everyone contribute their ideas. Planning lets you know what you need to carry for fun such as board games and art supplies.
Fun Activities To Do When Camping With Friends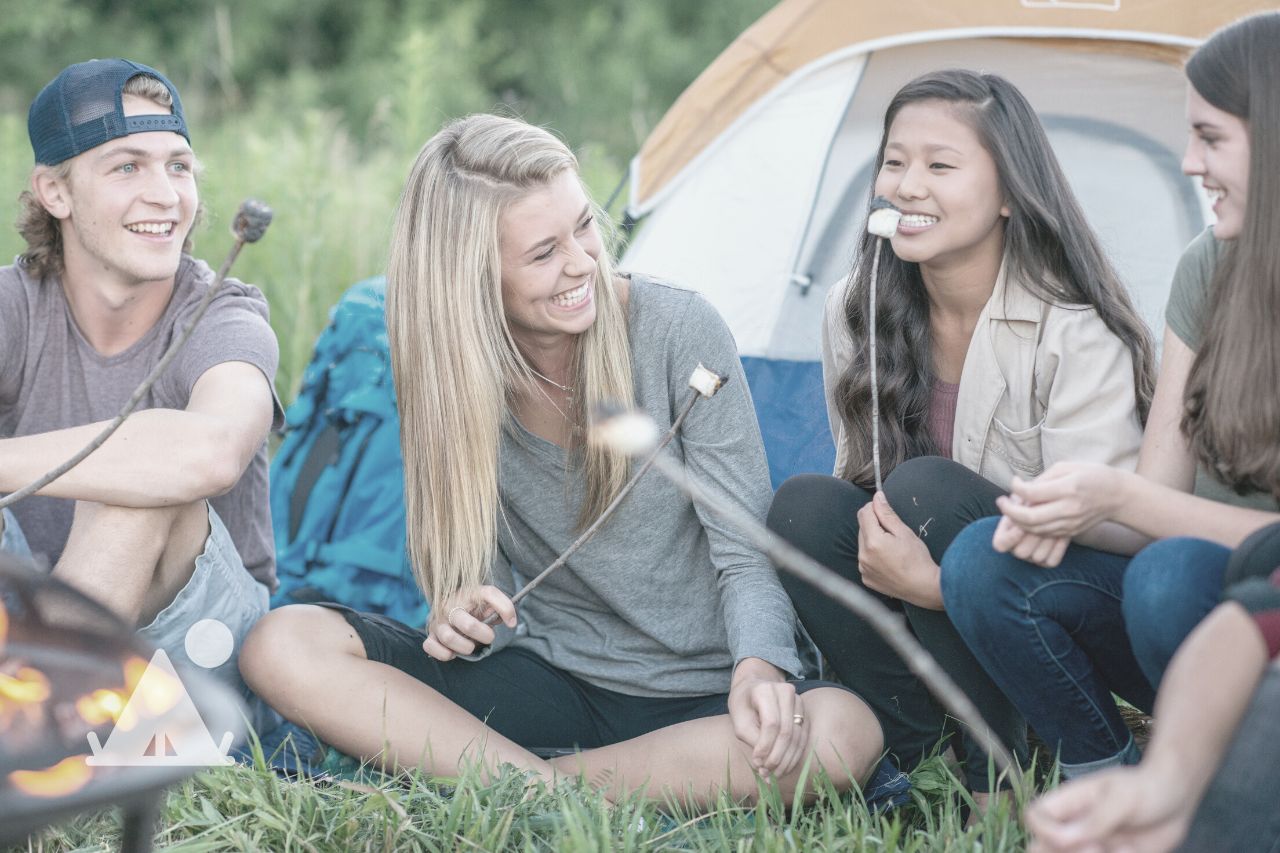 Here are some ideas on fun things you can do with friends when camping.
1. Hiking and Exploring
If your friends love the outdoors, hiking is one of the best activities to fill your time. You can go hiking during the day then come back to camp in the evening.
Before you set off on your trip, do some research to see if there are interesting sites around the camping site that you can explore such as a lake, caves, ruins and so on.
Explore as many interesting things as you can while hiking.
You can also try night hiking, if it is safe to do so. It's an unusual but fun experience for many people.
Tip: Adjust the length and difficulty of the hike to the fitness level of everyone in the group. Short relatively flat trails are usually the best for a group of friends.
2. Reading
Gather a bunch of your book loving friends and plan a reading camping trip. Have everyone carry a couple of their current books or a Kindle.
Once you set up camp, get comfortable and start reading. If you are planning to read at night as well, make sure you carry adequate lanterns for everyone.
You can even plan an outdoor book club where you read one book aloud and discuss it.
3. Board & Card Games
Board and card games are perfect when camping with friends. They are fun, don't require any moving around, and you can talk or listen to music while you play.
Pick two or three games that everyone knows how to play and pack them before you leave.
4. Other Games
If you need games that are a bit more active, there are plenty of other options to choose from.
Depending on where you are camping and how much space you have, you can throw a football around, play frisbee, try a game of cornhole and so on.
When everyone's relaxing around the campfire, games like quizzes, alphabet games, Who Am I and whichever other games you can think of.
5. Cooking
Cooking is one of the most fun things to do with friends when camping. Plan which foods and recipes you'll cook before you leave, so that you can pack all the ingredients and appliances that you need.
Once you set up camp, have your friends help you gather firewood, start the fire and prepare the ingredients.
In addition to the usual stove top meals, try different cooking methods like grilling, roasting, and dutch oven recipes.
Of course, don't forget the s'mores.
6. Star Gazing
Take advantage of the reduced light pollution in the backcountry and enjoy a spectacular view of the night sky. Hopefully, you get a clear or mostly clear sky.
Have fun pointing out stars, planets and constellations. You can even use a sky map like Google Sky to help you pinpoint the location of different objects in the sky.
If you want to take star gazing to the next level, carry a pair of binoculars or a telescope. You can get a closeup view of the moon and planets like Jupiter.
Here's a great video on how to stargaze with binoculars.
If you want to make stargazing camping trips a regular thing, consider investing in a good quality portable telescope and a few eyepieces.
You can also get into astrophotography using your phone's camera or a digital camera.
7. Outdoor Party
This is probably the best activity to plan for if you want to convince your friends to come with you camping.
Check the rules of the particular campsite to see if they allow the kind of party you have in mind. Specifically, check if they allow music and alcohol.
If you want to keep things low key, have the music-oriented friends in the group bring an instrument and play it around the campfire.
8. Birdwatching
Going to camp at a location with lots of interesting birds? Why not try some birdwatching.
This is not everyone's favorite activity, so make sure your friends are fellow birdwatching enthusiasts.
With a pair of binoculars, a camera and a bird identification book or app, you are ready for a fun camping trip.
9. Movies
For a relaxing evening activity, a movie is perfect.
Obviously, you probably don't have access to a big flatscreen TV. The best way to watch TV when camping is on your phone.
But that won't do if you are watching as a group. You have a few options here.
One, you could use a large tablet. It's perfect for small groups of 5 or less.
For a larger group, you'll need something even bigger. We recommend a portable projector like the NEBULA Anker that lets you watch movies on a big screen.
Also, get a foldable projector screen that you can carry with you.
10. Painting
Like birdwatching, painting is a niche interest that's best done enjoyed with fellow painters.
Camping is a perfect opportunity to paint nature scenes. Make sure you choose a scenic camping and pack everything you need including comfortable chairs.
Other Fun Activities
The above list is by no means exhaustive. There are a gazillion fun things you can do with your friends.
The most important thing is to make sure everyone will have fun. That's why it's important that you get your friends to suggest activities. You can then all choose the best ones that you'll do.
Remember to consider everyone's physical abilities. For example, rock climbing is not exactly a universal fun activity.
But things like scavenger hunts, charades and dance offs are perfect for most groups.
The last thing you want is someone getting injured when you are far away from medical help.
If there are kids with you, you'll need to select activities that they can be involved in. You can combine these with separate activities as well where the kids have fun on their own and the adults do their own thing. 
Finally, if you are going with first-time campers, let them help setting up the tent and getting the camp site ready.
They'll find it fun and they might even learn a few things they can use later when they go camping.