The kind of food you pack for camping depends on what meals you plan to prepare and the cooking appliances and tools you'll carry. In this guide, we give you tips on how to pack food for camping, including what to pack, where to pack it, and how to pack it.
Best Food To Pack For Camping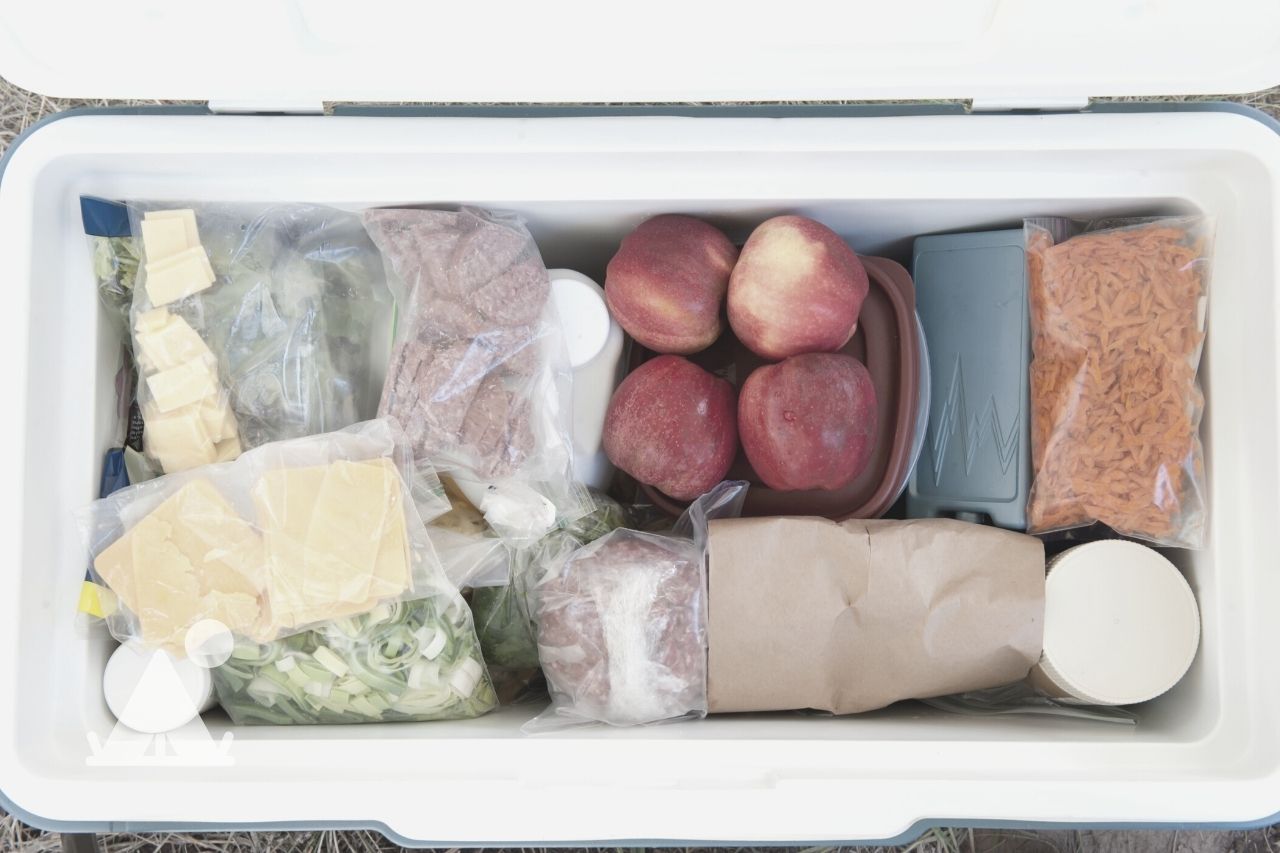 The first step is to decide what food you are going to pack, and how much of it. This will help you decide how big a cooler you need, or whether you need one at all. 
Start by noting down exactly what you'll have for each meal when you'll be camping. Write a detailed recipe for each meal, noting everything including the spices and condiments you'll need.
Don't forget to include snacks.
Most camping meal plans include five types of foods.
Fresh food – veggies, meats like chicken and steak, lunch meats, and cooked foods like stews and soups.
Dry foods – sugar, coffee, milk powder, flour, pasta, beans and others. Dehydrated and instant meals also fall in this category.
Snacks – S'mores, nuts, chocolate bars, energy bars, popcorn, chips and others.
Drinks
Condiments – hot sauce, ketchup, salt, pepper, and others.
Use this list to put together a meal plan.
Of course, you don't have to pack everything in this list. For instance, you can opt not to carry any fresh foods and only cook dry foods. This might be necessary if you don't have a cooler or fridge.
When coming up with recipes for what to cook, keep things simple. You'll be cooking outdoors with limited tools and appliances.
Stick to easy and quick recipes that require minimal ingredients.
That's why burgers and sandwiches are some of the best camping meals. They are filling, tasty, and you can have them for any meal of the day.
Frying foods is easy as long as you have a pan and stove. So you can make things like steak, pan fried chicken breast, bacon, sausages, and stir fry vegetables.
Boiling is also easy so foods like rice and potatoes are easy to pull off. You can also do stews and soups.
If you have a portable camping grill (or a grill attachment for your stove), that lets you prepare grilled recipes
Which Healthy Foods Are The Best For Camping?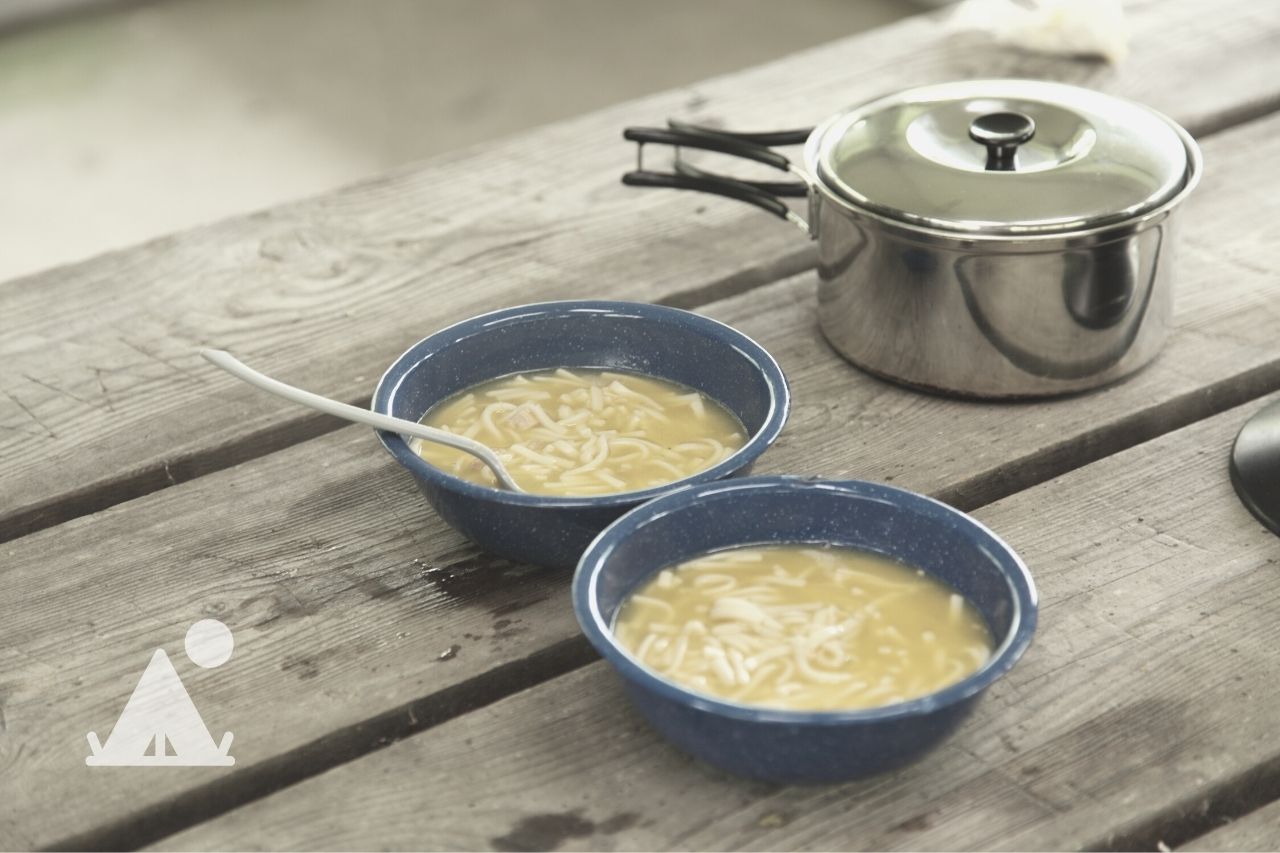 For most people, a camping trip is a time to indulge a little more than usual when it comes to food. Generally, we tend to eat a bit less healthy when outdoors.
If you want to eat healthy while camping, plan your meals to include lots of vegetables, legumes, nuts, healthy dairy, and lean meats.
Here are some tips for packing healthy foods for camping.
When it comes to the main meals, focus on lean protein from things like chicken, fish, eggs, turkey, and lamb.
Lean meats go well with just about any kind of vegetable. Carry a mix of fresh and frozen veggies and keep them in your cooler or car refrigerator.
Complete your dinner or lunch with a small portion of potatoes, rice, or some other starch. You can cook it at home and pack it, or cook it at the campsite.
If you are vegetarian, there are plenty of healthy proteins to choose from such as quinoa, beans, tofu, lentils, peas, nuts & nut butters and others.
If you prefer sandwiches, burgers, and wraps, opt for wholemeal breads and pastries over white ones. They have more fiber and will keep you full for longer.
For breakfast, a popular healthy option is oatmeal. Make sure you buy instant oats as they are easier and quicker to prepare. Other healthy breakfast options include fruit, yogurt, and nuts.
Replace the usual snacks with dried fruits, nuts, low sugar granola bars, and fruits like carrots and apples. These will not only keep you full, they also provide energy for hiking, swimming, and other activities.
Instead of energy drinks filled with sugar and caffeine, try tea, green juices, protein shakes and water. Add electrolytes to your drinking water to stay hydrated.
How To Pack Fresh Food For Camping
It is essential to keep fresh food fresh when camping. The last thing you want when in the woods is food poisoning.
You'll need to find a way to keep food cold or frozen.
For most campers, the easiest way to do that is using a cooler. Get a well insulated quality cooler that will hold all your fresh food plus ice to keep it cold.
When packing the cooler, line the bottom and sides with ice blocks (in freezer bags to keep the cooler from getting messy with water) or ice packs.
Place frozen foods or food that needs to stay the coldest at the bottom. These include meats, frozen vegetables, and dairy.
Put food that needs to stay less cold at the top. These include fresh vegetables, fruits, cheese and lunch meats.
Use cooler organizer inserts and baskets to organize all the different foods.
Place a foam pad or additional ice packs at the top of the food to keep everything as cold as possible.
Here's a helpful video showing how to organize food in your cooler.
If you are camping with your car or truck, another option is a 12V fridge or freezer. You plug this into your vehicle's 12V port and it works just like a kitchen refrigerator.
For short camping trips, you can use a thermoelectric cooler. It's cheaper and lighter than a traditional cooler, and it doesn't need ice.
On the downside, a thermoelectric cooler doesn't have the same cooling capability as a traditional cooler with ice. It works best for keeping frozen and chilled foods cold for a day or two.
Another low cost option for overnight camping trips is a cooler bag, also called a thermal bag. It doesn't have the same level of insulation as a box cooler, but it's great for backpacking or if you don't want to carry a big cooler box.
How To Pack Dry Food For Camping
Dry food doesn't need to be kept cold, so you can pack it in a container or bag. We highly recommend a waterproof bag or container to protect your food.
There are plenty of packing options including a lidded bucket, a basket, a dry bag, or a backpack.
Make sure you pack the foods you'll need least or last at the bottom and the ones you need access to most at the top.
Tip: if you'll be camping in bear country, pack dry food in bear canisters instead of a bag.
How To Pack Drinks For Camping
Whatever kind of drinks (other than water) you plan to carry for camping, do not pack them in the same cooler as your fresh food.
That's because you'll likely need to reach for a drink often, and opening your cooler frequently makes your food warmer and more likely to go bad.
Have a separate cooler for drinks that need to stay chilled like sodas and beers.
This doesn't apply if you have a 12V refrigerator. You can organize it so it holds both foods and drinks.
If you want to pack alcoholic drinks like cocktails, spirits and wine, look for those that can be served cool or warm.
For convenience, get canned or boxed wine. If you prefer bottled wine, look for bottles with screw caps as they are easier to open and reseal.
If you want mixed drinks, make them at home and carry them in a resealable container like a pitcher.
How To Pack Food For Backpacking
Because you don't have the luxury of carrying a large cooler packed with food when backpacking, opt for food that takes up less space but carries a lot of calories and bulks up when cooked.
Dehydrated foods are great for backpacking. You can find dehydrated meal packs in many stores including vegetables, meats, and fruits.
Instant foods such as soups, oats, milk powder, and noodles are also great as they are easy and quick to prepare.
You can also carry fresh food, but make sure it is canned or preserved. That way, you don't need to keep it cold in a cooler or thermal bag.
You can find a canned version of just about any food including canned chicken, fish, mushrooms, vegetables, and fruits. We recommend getting small cans that you can empty in one or two meals.
While you, obviously, have to pack the food in your backpack along with everything else, it's a good idea to pack it separately in a stuff sack.
This makes it easier to access the food, and protects your other items in case something leaks. Remember to hang the sack high up in a tree to keep animals away.
Every morning before you go out, take out any snack you'll need for the hike and store them in external pockets where they are easy to reach.